Heavy/Specialized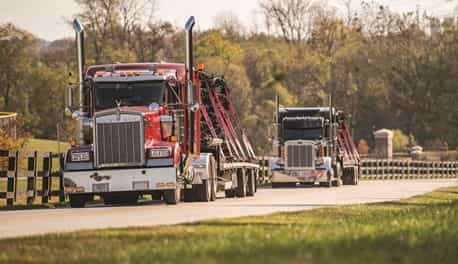 Heavy/Specialized
Landstar agencies go to extremes to move your over-dimensional and heavy haul freight. Whether it's hauling one load or managing and executing entire project moves, we can configure the right combination of equipment to move your heavy, oversized freight.
Through the Landstar network, we have access to a wide variety of equipment including flatbeds, stepdecks, double drops, extendables, multi-axles, steerables, lowboys with 40-80 ton capacity, RGN units, and much more.
Landstar's unparalleled commitment to safety makes us the obvious choice when it comes to over-dimensional, super heavy freight. One call to Railgistixs is all it takes to set specialized transportation solutions in motion.
Professional Superior Heavy Haul Trucking Services
When you need to ship heavy and oversized freight, trust Railgistixs to handle the work. As an independent Landstar agency, we specialize in providing heavy haul trucking to efficiently and safely move your large and overweight products. Whether we're shipping a single load or supervising a full-scale moving project, our team has the right combination of experience and equipment to get your goods to their destination. Contact us to learn more about our heavy hauling solutions and let our team take care of transporting your large equipment and products.
The Right Hauling Equipment
With our connections to the Landstar network, we have access to assets and services from some of the best heavy haul companies. This includes a wide range of high-quality hauling equipment such as:
Flatbeds
Stepdecks
Double Drops
Extendables
Multi-Axles
Steerables
Lowboys with 40-80 ton capacity
RGN units
Putting Safety First
At Railgistixs, we are committed to safety, making it our top priority on every transportation job. It is this unmatched responsibility to safety that makes our freight shipping company the obvious choice to handle your heavy freight. So contact us to let our dependable team take care of your specialized transportation needs.